I seldom write trip reports for hikes on Tiger Mountain. Sometimes the conditions and the route are interesting enough to make an exception. The previous two days brought two feet of new snow to the Cascade Mountains. On top of a hard icy crust this left very high avalanche danger. Add in the difficulty of breaking trail in two feet of snow and Tiger began to sound pretty good. I knew there would be new snow on Tiger but not how much. I had a bit of a late start getting on the trail just before 10:00 am. I headed up the High Point Trail to the junction with the new start to the Lingering Trail. I was just on this new trail four days earlier on a mid week after work hike. That trip was at high speed. This time I slowed down and enjoyed the moss and many shades of green.
I was curious about the distance of the new Lingering Trail route so I brought a GPS. At the Tiger Mountain Trail (TMT) junction I measured 1.75 miles. that's about .35 miles more than via the High Point Trail. The trail was a little muddy but not too bad. The generally lower usage helps. Still no snow as I reached 1500' elevation. As I reached the old route of the High Point Trail I came out of the forest and the ground was mostly snow covered. Not much but enough to be slippery on the several small bridges. The big bridge was very slick. At Fred's Corner I took a short break. GPS read 2.76 miles. I considered doing the loop counter clockwise but chose to leave the TMT and turn left on the old railroad grade heading for Tiger 1. There was now enough snow to fully cover the dirt though probably less than one inch.
As I hiked along, stopping for photos, I heard a hiker rapidly catching up with me. As he zoomed by he stopped, took a good look, and asked if I was Jim. This was one of the few times I have been recognized on the trail by someone I have not met. Turns out that Martin follows NWHikers.net and reads my website. We had a nice conversation before He went back to his speed and quickly pulled ahead. A lone woman hiker passed us as we were conversing. That made for two other hikers seen most of the way up Tiger 1. Very unlike the hoards over on Tiger 3. Just before the junction with the Bootleg Trail I caught and passed a group of four hikers.
A little before the Tiger 1 viewpoint I met Martin heading down. We talked some more and the foursome went on by. When I reached the viewpoint the four were ensconced in the Hikers Hut. There was a little wind but it was not too bad. I stayed outside. I did put on my jacked immediately as it was much cooler than in the windless forest. Much to by delight the trees were covered in rime ice. Not as thickly as on my
year end hike
in 2007 and white sky vs. bright blue on that day. Still, one of the most beautiful days I have had on Tiger. The white sky and icy trees did not provide much contrast but I do love rime. It was 11:50 when I arrived. 4.25 miles up in just under two hours. About 2600' of gain so far.
My hands were rapidly freezing and after a few dozen photos I was ready to leave. Instead of the usual loop over to Tiger 2 then back I chose to make a little longer loop. I backtracked a short way to the trail up to near the summit of Tiger 1. I was pleased to see two sets of boot prints in the snow. I hoped to have a track down the Poo Top ridge trail. At the 2900' high point I saw the tracks did continue on the Poo Top. Down I went. I quickly found that the snow was deep enough to get snow in my boots so I stopped to put on gaiters. Better late than never My feet warmed up quickly. The snow actually provided better traction than dirt on the steeper spots. I had no problems dropping down to the road. Lots of prints going up and down road. That is unusual. I was a long way from any trailhead. I crossed the road and continued down the short way to the TMT.
The TMT - Hidden Forest junction sign showed it I was down to 2240'. Nearly 700' down from the top. The snow was much thinner here. There are a number of small trees down across the TMT from here to the Cable Line Trail. One fell right along the trail. The rest are easy to get around. I managed to move a few off the trail. A day of sawing would be helpful but there is nothing that will slow down any hiker much. The TMT has a number of short ups and downs as it traverses the head of Many Creek Valley. Mostly it's uphill. I had a net gain of 360' to the high point of the TMT at Manning's Reach. It was 12:30 when I finally stopped for lunch along the TMT. I was not surprised to see nobody along from the summit of Tiger 1 to the Cable Line.
I had planned to head to the top of Tiger 2 but instead turned left on the Cable Line and headed over to Tiger 3. I would get in all three West Tiger summits this day though few go to Tiger 1 then 3 then 2. At the summit Nancy, the Zachster, welcomed me. She and her husband were talking to Jim Oker and Yana. I had not met Jim and Yana before. Nancy's dog Cedar was along too. It is a small world, at least on Tiger 3. There were a dozen or more other folks on the summit. Far more than I had seen all day up to that point.
After a quick visit I dropped back down the Cable Line Trail heading for Tiger 2. As I headed up my last climb of the day a big "woof" greeted me. That deep voice could only be Gusto the golden retriever. In fact it was Gus along with Suzanne, Barry, and Barb. They were all on the Mt. Catherine trip last weekend. It really is a small world. After another short conversation they headed for Tiger 3 and I continued on to Tiger 2. Tiger 2 is at 2757' and the snow began to get deeper as I neared the top. The trees were heavily flocked. There was about one inch on Wednesday evening. Now it was more like 4 or 5 inches.
From Tiger 2 it's nearly all downhill. I made much better time as there was very little trail maintenance to do. The route is clear with a number of freshly cut logs. I dropped on down to the railroad grade passing under the washout from a few years ago. The big bridge was slick with a thin coat of slushy snow. As i dropped back down to Fred's Corner the snow became very thin once again. I took off my gaiter at Fred's Corner. With the loop now closed i retraced my steps down the TMT. At the Lingering Loop junction I turned left on the TMT and then right on the High Point Trail. This shorter route cut off that extra .35 miles I hiked on the Lingering Trail coming up. I saw nobody while descending until the last half mile.
Back at my car I checked the final statistics for the day. 11.1 miles hiked with 3600' of gain. Not bad for a close in hike on Tiger Mountain. Other than the top of Tiger 3 I had a lot of solitude. I also saw a lot of friends and one new acquaintance. This was a great day. I avoided the deep new snow and high avalanche danger in the Cascades. I avoided most of the crowds on the most popular Tiger trails. I had miles of hiking in the fresh snow but it was never deep. The flocked trees and rime encrusted ones on Tiger 1 were really nice. It snowed a little at higher elevations but there was no rain down lower. All in all, a great mid winter hike.
| | | | | | |
| --- | --- | --- | --- | --- | --- |
| Mossy Greenery | Lots Of Green | Broken Tree | First Solid Snow Cover | Off & On Snow | Martin Takes Off |
| Catching Up | Bypass Trail | Tiger 1 Viewpoint | Rime Ice | More Rime | East Tiger Mt. |
| Icy Signs | Horizontal Ice | View Southwest | Icy Close Up | Hikers Hut | View Of Squak Mt. |
| Tiger 1 Summit | Descending Poo Top | Biggest Snowflake | Trees On Trail | Busted Bridge | Snowy Switchbacks |
| Remlinger Bridge | Manning's Reach | Icy Bush | Tiger 2 Towers | Descending From Tiger 2 | TMT Bridge |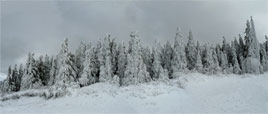 Rime Ice Panorama
Click on thumbnails to get larger pictures.
Trips - 2012
Home