Last spring I joined Kim and Jon for my first hike on the Downey Creek Trail. Years earlier Kim went with some other hikers on a long abandoned trail to a small lake below Downey Mountain. She thought she recalled the location of the start of the trail. We looked and found it rather easily. We went up and short way and planned a future return trip. Now that it was a long Fourth of July weekend we decided to head back there. We met in Shoreline at 6:45 am and headed north. Up to Darrington then on to the Suiattle River Road. I was driving my sedan and we had almost no trouble on the gravel section of road. I managed to bang on two rocks on the narrow section just before the Downey Creek Bridge. A lot of noise but no apparent damage. I did not hit them on the way out. We pulled into the mostly full parking lot at about 9:00 am. By 9:15 am we were on the trail.
The route begins with a little climbing before leveling off and coming nearer the creek. Early on Kim noticed candystick, a saprophyte, along the trail. These plants do not need chlorophyll to survive. Not a bit of green on any of them. We were to see a huge amount of them throughout the day. The same big down logs seen last year are still there. On one there is a cut out for your foot to crawl over the top. The other big one had the entire rootball of a big tree pull out. You need to climb up and around and back down to the trail. Otherwise, the trail is in great shape. We continued on crossing one creek on a log and soon coming to the obvious markings on a tree. We took a break and headed up the old trail. First I need to say that the destination is not a terrific scenic lake full of fish. It is instead a small shallow lake/pond surrounded by forest. Not a destination to long for. The trail is interesting and some navigation skill is necessary. It is much easier to lose coming down when you really need it.
Check it out if you like but unless you love to hike narrow old bootpaths to unremarkable destinations this trip may be a let down. We started up at 11:10 am. After a very steep first 250' the trail settled down to many switchbacks and a fairly gentle grade. In the 1930s, when we believe this route was built, most trails were steep. The lower abandoned Green Mountain Trail across the valley and this one are very gentle. So gentle that it took over three miles to climb 2500' from the Downey Creek Trail to the lake at about 4750'. The forest is mostly open with some thick salal ground cover in places and moss in others. The saprophyte show continued right up the route. We saw many coral root, some pinedrops, some candystick, and some Indian pipe. I've seen some bigger patches of coral root but never so many saprophytes on one trail.
For the most part we were able to stay on the route. Someone has been caring for the trail as many down trees have been cut out over the years. There are a couple of big blowdowns that hide the trail. We took some time to find it after the biggest mess. Though most all the route is in thick forest, there was one spot where we had a small view out. I was able to see the Green Mountain lookout far above us. Other snowy peaks to the north on that ridge were also in sight. From there we went right back into forest. Slivers of sunlight shone through on much of the route. It created very bright and very dark areas next to each other. My point and shoot camera did not do well with the extreme highlights and shadows. Many photos were blown out or too blurry to use.
After many switchbacks the route headed for the outlet creek. After a long traverse we headed back uphill for the last 500' of gain. The trail is really faint in places here. We finally reached the lake at 2:50 pm. The first thing I noticed were all the frogs. There were a few small snow patches left. They will be gone soon. We headed over to two big rocks. One in the sun and one in the shade. We climbed up onto the shady one. There was a cloud of bugs everywhere. For some reason they were not biting. It might not be so good in a week or two. The basin is very small. It goes up fast on three sides. Forest covers all views of the basin walls. Downey Mountain is about 1200' straight up. I don't think the point we saw was the summit.
After nearly an hour at the lake we headed down. Since the grade is so gentle and the ground mossy it was easy on the knees going down. As expected we lost the route a few times but found it again fairly quickly. Our down time to the main trail was nearly an hour less than the ascent. We slogged out the Downey Creek Trail and arrived back at the trailhead at 7:53 pm. It was along day. Almost all the cars were still there. Most folks were heading to Dome, Sinister, other big peaks, or the Ptarmigan Traverse. The four day holiday weekend brought out a crowd for those destinations. We saw exactly zero people over the course of more than ten hours on the trail. Yeah, all the trails are overly crowded these days. Two days earlier we saw ten people all day hiking to Hope and Mig Lakes along the Pacific Crest Trail. That made two trips on a holiday weekend and ten people total seen for both days combined.
It was fun to hike the old trail. While the Suiattle River Road was partly close for 11 years and closed farther back for 8 years I hiked the old Green Mountain Trail From Downey Creek to the summit of Green three times. That neat old trail led to the new trail and on to the summit of Green Mountain. That is a terrific destination. This trail was fun to see but the little lake/pond is no Green Mountain. The trail is the thing to see not the lake. I would not bother unless a narrow old trail was the reason to do it.
| | | | | | | |
| --- | --- | --- | --- | --- | --- | --- |
| Candystick | Glacier Peak Wilderness | Wildflower | Duck Under | Around Rootball | Yellow Monkey Flower | Creek Crossing |
| Looking Up | Up On Old Trail | Slice Of Sunshine | Old Mossy Tread | Gentle Grade | Kim On Trail | Green Mt. Lookout |
| Cut Log | Pinedrops | Sunny Coralroot | Clear Trail | Switchback Time | Mossy Sunshine | Coralroot In Sunshine |
| Missing Trail | Snowy Peak | Tiger Lily | Another Saprophyte | Mama Grouse | Traverse | Logs To Cross |
| At The Lake | False Hellebore | Kim At Lake | Clambering Down | Indian Pipe | Great Lighting | Down To Trail |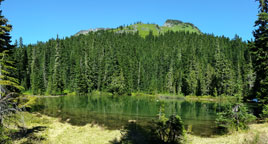 Panorama Shot Of The Lake
Click on thumbnails to get larger pictures.
Trips - 2017
Home